American Oystercatchers have returned for the season.
Lanny McDowell
Ahoy Oystercatchers
Thursday, March 22, 2018 - 1:18pm
Many a birders' favorite shorebird — the American oystercatcher with its long bright red beak — returned to our shores this week. In recent years the first one back has appeared in the marsh at the foot of Skiff avenue in Vineyard Haven. Vasha Brunelle is the first to see an American oystercatcher this year, as she spotted one in that marsh on March 16. This individual is probably one of the older adults, as they tend to be the first to return to their breeding grounds. Ms. Brunelle also reports that a second oystercatcher returned on March 19.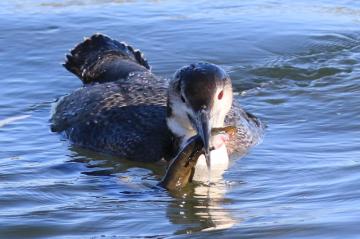 Common loon enjoys an eel. — Lanny McDowell
There are other reports of oystercatchers. Sharon Simonin reports the oystercatcher — likely the same individual — was on the rocks by the seawall along Beach Road in Vineyard Haven. Also on the rocks were several common eiders, a combination of species that is unusual because the former is a summer resident and the latter are winter residents.
Reports of other oystercatchers come from State Beach on March 17, spotted by Ken Magnuson, and from Little Beach in Edgartown, sighted by Margaret Curtin and Greg Palermo on March 18 and by Cathy Chase on March 19.
More osprey are also slowly filtering back. Lisa Strachan spotted one on the pole near the intersection of Lighthouse and Lobsterville Roads in Aquinnah on March 15. Allan Keith reports that the osprey at the Oak Bluffs Pumping Station was back there on March 19. It was not there when I visited on March 17. And Leigh and Pam Smith saw a pair of osprey overhead on West Chop on March 17.
Bird Sightings
Turkey vultures are so graceful on the wing, yet so prehistoric when perched in trees. It was in a spruce tree in Vineyard Haven that Debra Luce found eight turkey vultures perched on March 18.
Greater scaup. — Lanny McDowell
On the evening of the previous day I found a flock of 21 vultures circling over the west arm of the Lagoon and Hines Point, so my guess is that there is a nocturnal roost somewhere in the neighborhood. An old roost near the Tisbury School was abandoned a few years ago when they cut down a bunch of trees and remodeled the nearby house (I do not want to imagine what the old widow's walk they perched on smelled like).
How long will the eagles stick around? Roger Cook spotted an adult bald eagle flying over Squibnocket and Quitsa Ponds on March 18.
Lanny McDowell spotted a common loon battling to swallow a largish American eel at the Head of the Lagoon On March 17. The eel escaped from the loon's bill several times but the loon would dive and catch it again. The ability of loons and gulls to swallow these eels is quite amazing. Persistence pays off.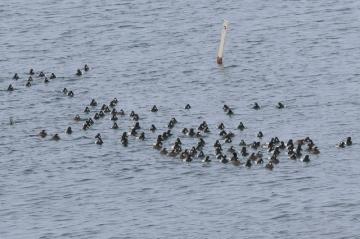 Greater scaups on the lagoon. — Lanny McDowell
Sharon Simonin photographed a long-tailed duck — complete with its namesake long tail feathers — by the Oak Bluffs Steamship Authority dock in Oak Bluffs on March 18.
Jerry Twomey discovered a red phase screech owl sticking its head out of a nest box in his backyard on March 14.
The saga of the perhaps too tame young peregrine falcon that frequents Oak Bluffs continues. The falcon was busy on March 16, as Laurie Meyst spotted it at the Big Bridge and Bill Jones spotted it later that day, a mere 10 feet from the boardwalk along the north bluff near Oak Bluffs Harbor.
Gus Ben David reports that he still has about 10 pine warblers visiting his feeders, and Laurie Meyst has up to five of them visiting her feeders. It is unusual to have that many of them at this time of the year. Usually they are scarce until mid-April, when they show up singing in our evergreen woodlands.
Pine warbler. — Lanny McDowell
This week's evidence points to the departure of our winter resident waterfowl. Allan Keith visited Chilmark Pond on March 19. The pond was very low but birds were pretty scarce. His highlights include about 30 green-winged teal, one male pintail, several American wigeon, and a small flock of scaup that were too distant to identify to species. And on March 17, I birded the entire Lagoon Pond from various locales looking for waterfowl. There were 56 bufflehead, 12 common goldeneye, 13 red-breasted mergansers, 4 American wigeon, and the flock of 200 greater scaup was completely absent. These are unusually low numbers for these winter residents, so it seems likely that many of these species have already migrated northward. The populations of the year-round residents were more typical, as I counted 48 mallard and over 100 herring gulls.
It is officially spring (at least by the calendar), and our many winter residents are starting to depart. Spring migrants are starting to show up and the volume of bird songs is increasing. Please report your sightings to birds@mvgazette.com.
Robert Culbert is an ecological consultant living in Vineyard Haven.