Residents discussed ways to improve Aquinnah Circle and preserve its character.
A diverse group of Aquinnah residents gathered in the Old Town Hall last week to envision a future for the Island's farthest outpost. "It's amazing how much is going on in this little town," said Ryan Corrigan, a graduate student at the Conway School of Landscape Design in western Massachusetts who with his partner Mariko McNamara is helping to lead two visioning sessions this winter. About 35 residents spoke freely about their ideas to improve Aquinnah Circle and preserve its natural character. The Circle area includes the Gay Head Light, Moshup Beach and the shops at the cliffs.
Wide-ranging discussion aims to create a blueprint for the future at the Aquinnah Circle. Ms. Mariko opened discussion by asking people to pair up and share their fondest memories of the area. Conversation quickly filled the room, where Christmas lights on ceiling beams created a contemplative mood. Later people shared their memories with the group. Michael Stutz recalled learning about 130 million years of geologic history that shaped the cliffs and hoped others could share his fascination with the process. Several people reflected on what distinguishes the area from the rest of the Island. Bret Stearns compared the area to Menemsha, another relatively undeveloped Island outpost. Juli Vanderhoop noted the many maritime mishaps that have occurred offshore. "It's a place to be respected because it's dangerous, but because of how beautiful it is," she said.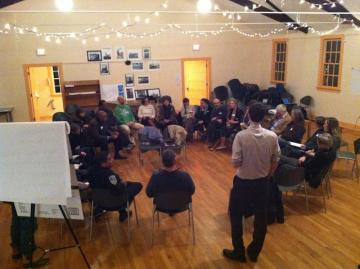 The Lighthouse keeper Richard Skidmore said it would be impossible to keep people away from the cliffs and lighthouse. "Living here in the off-season, trespassing is a sport," he said. "What we really have is this amazing, gorgeous place to protect, but also to share." The planning effort comes on the heels of other changes at the Circle, including the relocation of the Gay Head Light last year. Much of the conversation focused on how to improve the flow of bikes, vehicles and pedestrians at the one-way Circle without diminishing the natural qualities that make the area special. "Here the vibe is very natural," said Liz Witham. "And I think that people are very connected to that nature. They don't want an overlay of someone's concept of what it should be." Parking and tourism emerged as key issues for the area. A second session will be held on March 2.