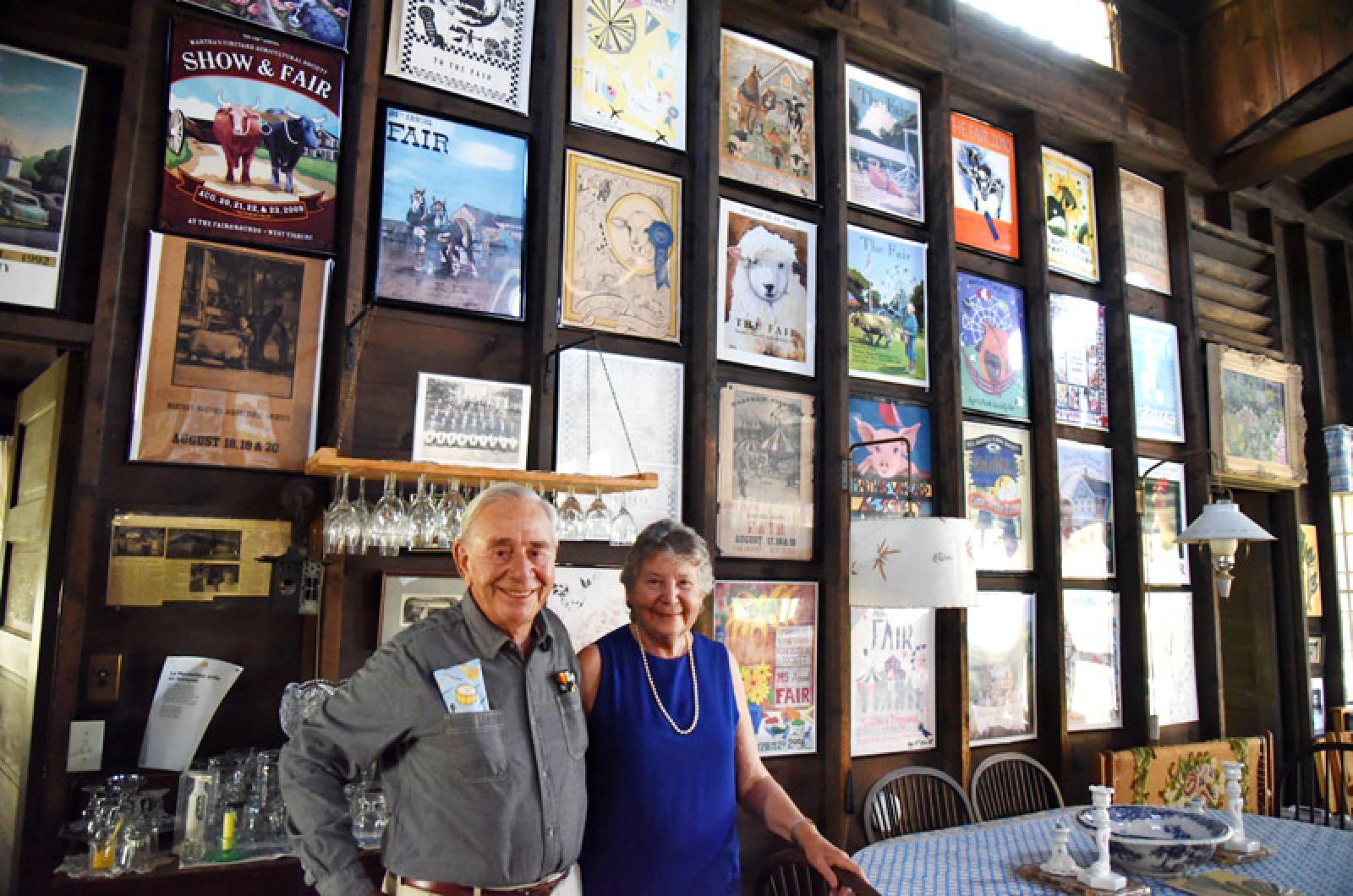 Bob and Wini Blacklow of East Chop have been collecting fair posters since 1973.
Listen to the Cartoon Chicken: Come to the Ag Fair
Wednesday, August 17, 2016 - 9:52pm
Come to the Fair. It's an instruction Paul Karasik remembers seeing from his childhood atop all the Martha's Vineyard Agricultural Society Fair posters. It disappeared for years, but Mr. Karasik brought the imperative back in his winning poster for this year of a cartoon chicken proudly holding her prize egg.
"I really liked the old posters. I liked the clear simple bold designs," Mr. Karasik said. "They have simple and direct topography with lots of white space. The really old ones were two colors. They were classic posters that just did the job efficiently."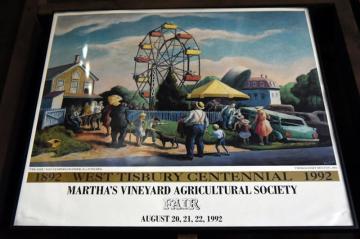 Most valuable fair poster depicts Thomas Hart Benton image. — Jeanna Shepard
Mr. Karasik said as a kid he would see posters going up around all over Island weeks before the fair opened. To him, that meant soon he'd be playing the magnetic fishing game on the midway, or having a treat like his current favorite, an espresso float.
The 155th Martha's Vineyard Agricultural Society's Livestock Show and Fair opens Thursday and runs through Sunday, August 21.
Posters weren't always designed by fair attendees. In the 1950s the event provided generic posters, fair manager Eleanor Neubert said. Then in 1976, the West Tisbury painter Allen Whiting was asked to do a poster. Mr. Whiting created the poster for three consecutive years.
It wasn't until 1986 that a committee began selecting the poster through a contest. "We decided we wanted to involve the Island community a little more," Ms. Neubert said. "It has generated a lot of interest."
This year's poster was designed by Paul Karasik.
An advertisement goes out in the Island papers in late January soliciting entries through April. This year there were about 20 entries. The committee selects entries for various reasons, but the designs must be translatable to T-shirts, tote bags and aprons.
There is also a lot of interest in collecting the posters, which go on sale only once the fair begins.
"People want them for the year they got married, or the year their child was born," said Ms. Neubert. Those who cannot make it to the fair to purchase this year's poster can send in a check and will be mailed one, she said.
Possibly the largest collection of fair posters on display on the Vineyard is at Bob and Wini Blacklows' East Chop home. Their poster mania began in 1973 when their kids asked to take home a poster from the fair. They didn't want to keep the poster rolled up and tucked away, so they began thumb tacking them to the walls. Wini Blacklow had always wanted to paint the dark walls of their cottage but was consistently out-voted by her family. Hanging the posters brought light into their living room.
"The pig and the lamb are favorites," Mrs. Blacklow said, referring to the 2003 and 2007 posters. The posters are no longer thumbtacked to the wall, but safely encased in frames.
The Blacklows collect the posters because they love the fair. In 1999, they bought fair memberships for life. Two dark yellow laminated cards grant them access into the fair every year. Their first stop inside the fair grounds is the exhibition hall. Mrs. Blacklow enters many things in the fair. She's a wooden bird carver, a porcelain doll maker, a lace maker and a quilter among other things. Together the Blacklows enter beach plum jelly every year.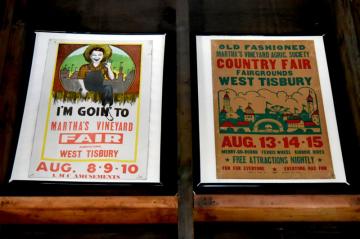 Classic posters for a classic event. — Jeanna Shepard
"It's judged on color, clarity and cleanliness," Mr. Blacklow said.
By Monday, they were still deciding between two jars to enter. One of their most memorable entries in the past was entering their Siamese cat in the category of most vicious cat. However, when placed on the judging block, the cat that usually went for the jugular just sat there. "She was a great disappointment," Mrs. Blacklow remembered. The cat was awarded a blue ribbon anyway.
The Blacklows' most valuable poster is the 1992 West Tisbury centennial poster, which used a 1967 painting by Thomas Hart Benton entitled The Fair. Mr. Blacklow said framed copies of the poster were selling for over $500. All together, the Blacklows have 43 fair posters, soon to be 44 once they pick up this year's prize winning hen poster.
2014 fair poster by Omar Rayyan depicts draft horse Sonny talking to a goose.
Poster designs sometimes include familiar Island faces, not necessarily human. The 2014 poster shows Bruce Marshard's black Percheron draft horse, Sonny, chatting with a goose. Omar Rayyan painted the horse years before and gave it to Mr. Marchard at Sonny's funeral during the winter. Text was added and the picture entered into the poster contest.
Though posters have depicted people, rides, produce and flowers, and have been done in paint, pencil, paper and graphics, animals always seem to be the favorite. Mrs. Blacklow pointed out the 2013 poster featuring a stout pig by Terry Crimmen. The pig is actually a British Saddleback, but some equate it with Thunder Ben David, a Berkshire boar who was well known in 2013 for escape attempts.
"That pig was everyone's friend," Mrs. Blacklow said.
Ms. Neubert confirmed that Thunder's antics had nothing to do with the selection of the pig poster that year.
The fair is truly agricultural in spirit, part of the reason why animal poster designs are popular. Every year there are livestock competitions, shearing and herding demonstrations and horse pulls. People also compete in oyster shucking, corn husking and skillet tossing, or just sit back an enjoy the music, rides and food.
But really, the only way to experience it all is to come to the fair.