Thirtieth Annual Big Chili Contest Brings the Heat Once Again
Sunday, January 31, 2016 - 6:52am​
Chili in January for a good cause - 30 years of hot stuff with a heart -- What is made with wild boar, bison and bacon and burns tongues? The hottest chili at the 30th annual Big Chili Contest, cooked up by the Edgartown fire department. Chili recipes of all styles were served under a white tent at the Portuguese American Club in Oak Bluffs on Saturday to support the Red Stocking Fund. Hosted by Island radio station, MVY, nearly 1,800 people gathered together to sample chili, dance and support a good cause. Proceeds from the contest support Red Stocking, a volunteer-run nonprofit that supplies clothes and gifts to Island children in need at Christmas time. Organizers estimated approximately $30,000 was raised this year.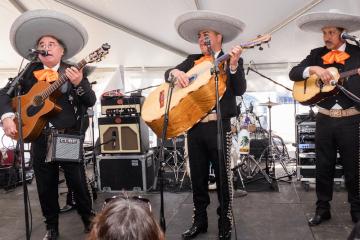 The Mariachi Mexico Lindo Band kept the Party Rocking
Chili makers from as far as Reading traveled to the Island to dish out their signature sauces and compete at the chance to impress chili-fanatics. At least three hotels sold out for the weekend, said Greg Orcutt, director of underwriting at MVY Radio. "This event probably brings half a million dollars to the Island," Mr. Orcutt said. He praised the longevity of the event. Revelers donned sombreros, fake mustaches and leis made of chili peppers. Some went all out with long sequined capes or light-up costumes and many were chili contest veterans. Cape Cod Select spooned out chili straight from a Thanksgiving meal, featuring cranberries and turkey. Brian Athearn and Steve Jordan doled out a spicy southwest chili with white tequila-lime chicken. Their booth was decorated cowboy style, complete with a plush snake. Mike Brehaut served chili for Kelly's on Main from Hyannis. Having just come off a win at the Cape Cod Awesome Chili Challenge for hottest chili, Mr. Brehaut featured both a spicy chili and a regular one.
The referees: Bill Costello, Mike Oliberio and Bob Costello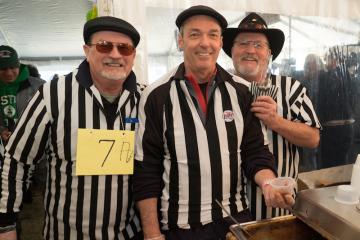 The BaHa Brothers returned to the contest again to play their beach-themed music, decked out in Hawaiian shirts. "It's about the sixth one we've played and by far the best weather we've ever had," said bassist Jay Gonsalves. The day was clear and on the mild side, and the revelry spilled out of the tents into the yard. The Mariachi Mexico Lindo Band also performed. For those who needed to cleanse their palate, two oyster shuckers kept a deft rhythm in a far corner of the tent, shucking and placing Katama bay oysters and littlenecks on ice. Burgers and hot dogs were also available. Bill Narkiewicz, MVY radio jock and chili taster extraordinaire, strolled the grounds to make sure no chili went unchecked. "We had our crew out today, we tasted every chili in the house," he said. Station manager PJ Finn was also on the scene. "It's been 30 years of super fun and it doesn't happen without people getting involved," he said.
Best overall CHILI presented by Jenny Johnson, host and creator of Dining Playbook:
First place CHILI -- Jim Pringle and Alan Northcott
Second place CHILI -- Cape Cod Select
Third place CHILI - Lookout Tavern